Ukrainian children received the Pope's blessing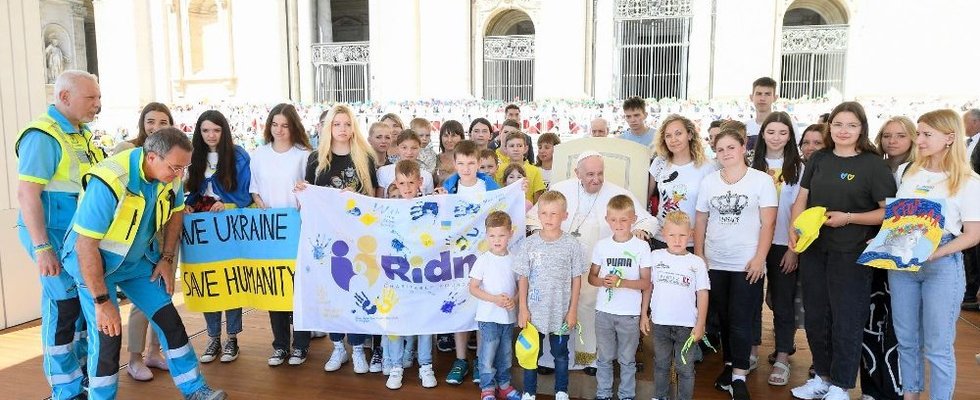 Ridni was invited to an audience with Pope Francis for the second time
Representatives of the Foundation recently asked the Vatican for prayers for the Ukrainian children and last Wednesday the children themselves, who have taken temporary refuge in Italy with their caregivers and educators since the outbreak of full-scale war, met the Pope.
Ukrainian children have been guests of the Italian volunteer organisation Misericordie in Tuscany for two months already. Since the outbreak of war, the purpose of the organisation was only to provide medical support to Ukraine. But Italian volunteers also became involved in helping the youth - they provided shelter for thirty evacuated children.
The Foundation uses every opportunity to tell the world loudly about the war in Ukraine. At the last meeting, Pope Francis received a Ukrainian flag painted by the children of the Foundation. At the second meeting, the children handed the Pope their drawings, blue and yellow ribbons and the flag of the Foundation. A photo of the event appeared on Pope Francis' social media accounts the same evening, and Vatican News published information about the event the next day.
"Meetings like this help us to broadcast important messages and once again remind the world of Ukrainian children who are suffering from the war and need help. The issue of children's safety and well-being should be key, not only for our Foundation, but for the whole world!" - Mariana Romaniak, Head of the Ridni Foundation
We would like to remind you that since the outbreak of full-scale war, the Ridni Foundation assisted in the evacuation of around 250 children and their caregivers and continues to provide targeted assistance to orphaned and parentless children near the front lines.